 Now a Master Artisan (Juried Status, PA Guild of craftsmen) Lian has been making art all her life, in one form or another, focusing on clothing and handbag construction, painting, dying, batik, fiber and paper-making. She is the creator of the Fine Art Wearable clothing and handbag line and teaches at arts councils and fine craft schools throughout the area.
Lian attended the School of Visual Arts in New York, The Brooklyn Museum Art School, as well as Temple University's Tyler School of Art.

With a classical musician father and a weaver mother, art is also in her heritage. She has traveled widely to explore design and art internationally and buy materials.

In addition to her artisitc life, Lian is a Reiki Master-Teacher (25 years) as well as a shamanic practioner, see Reiki Shaman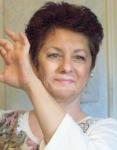 Email me: Liansawires@gmail.com

"Art is a product of the flow of life, the inner movement of the Tao, expressed in form, like nature, only it's new form. Ideas that are the product of what an artist is sensing, pulled through the unique matrix of their very fabric--that's art"